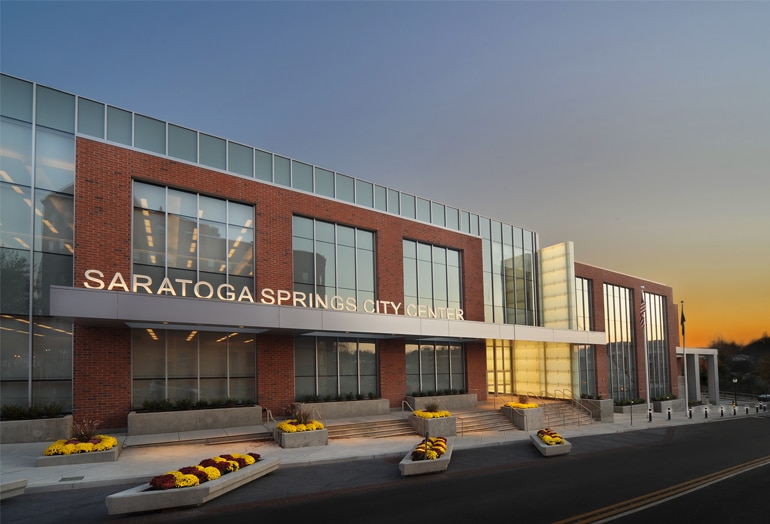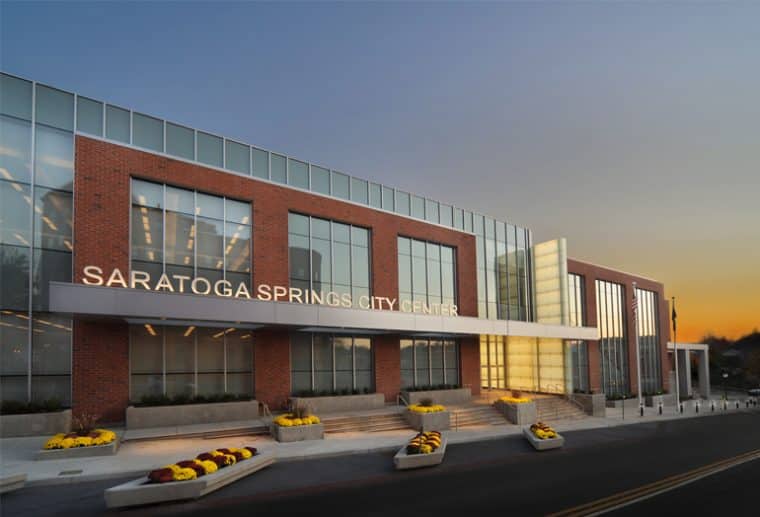 Construction Cost
Contract value = $6,876,503
Completed value = $7,023,431Size
32,000 sfProject Schedule
Award Date = September 2009
Completion Date = June 2011
MLB Construction Services, LLC was chosen as the General Contractor for the renovation of the Saratoga City Center. MLB was the original contractor who built the Center back in 1985 and was excited about the opportunity to provide a much needed facelift. The $16 million dollar construction project began on Sept. 14, 2009, but, it has been a ten year process since the initial conception and planning. The project added 12,000 square feet to the remodeled building, bolstering its total space from 20,000 to 32,000 total square feet.
The new meeting rooms feature 10-foot-tall doors, while glass walls look out on the Saratoga Springs streetscape and allow passers-by to see activity inside. Lounge furniture, LCD welcome screens, upscale carpet, and warmer colors create a more modern space. Recessed lighting, a staircase and a visual flow between the two levels adds an upscale element. The new conference spaces offer flexible arrangements that can be subdivided for breakout rooms – a common request from groups. Each room is supported by a pantry that serves as a staging area for catering groups.
Other nips and tucks include the installation of Saratoga's only interior escalator, stunning glass windows and paneling, sparkling new washrooms and a number of environmentally friendly energy systems.
A more pronounced entry with a large canopy and heated sidewalks makes the four-season center more user-friendly. The facility has many Green features, including high efficiency boilers and rooftop units, as well as the glass windows, which help capture the natural light and have translucent shades designed to trap warmth in the winter and let heat out in the summer.